Introduced in April 2016, Criteria's UCAT is an aptitude test created for candidates whose first language is not English.
---
The UCAT is very similar to the CCAT, except that it does not include verbal questions, so as to minimize linguistical aspects and make it accessible and translatable worldwide. It is the only test Criteria have created that has been translated into numerous languages, including French, English, Spanish and Polish.
| | |
| --- | --- |
| Full name | Universal Cognitive Aptitude Test |
| Presentation | Universal General Cognitive Ability Test |
| Measured skills | Critical thinking, problem solving, attention to detail and logical understanding |
| Duration | 20 minutes |
| Number of items | 40 questions |
| Languages | English, French, Spanish, Chinese, Indian, German, Polish, Chinese, Indian |
| Preparation | Start Practicing Test |
How Does the UCAT Work?
The UCAT is a 20-minute test which consists of 40 questions. The UCAT is unique in that it contains no verbal reasoning questions and is therefore easily translatable and ideal for international use. This UCAT is useful in hiring processes for a wide variety of jobs; and is particularly effective for jobs requiring aptitude in problem solving, critical thinking, analysis and mathematical reasoning. Moreover, a scientific study found the UCAT to be highly accurate in prediction of a potential employee's quality of work.
What Skills Are Evaluated?
Just like the CCAT, which is Criteria's most popular cognitive reasoning test, the UCAT assesses a candidates' cognitive ability using several factors such as critical reasoning, problem solving capacity and logical reasoning. The UCAT places greater emphasis on problem solving, attention to detail and data interpretation than the CCAT, making it particularly useful in evaluating candidates for positions requiring quantitative and analytical skill.
What Topics Do the UCAT Questions Cover?
The UCAT questions are identical to the CCAT questions bar the verbal ability questions. It can therefore be divided into two categories of questions:
Numerical and logical reasoning: just as in the CCAT, these questions evaluate the candidate's numerical reasoning capacity. Calculators are not allowed.
Spatial Reasoning: Spatial reasoning questions assess the candidate's ability to visualize, identify and sort shapes.
Example of a UCAT Question
How many shapes in the right column are exactly the same as the shapes in the left column?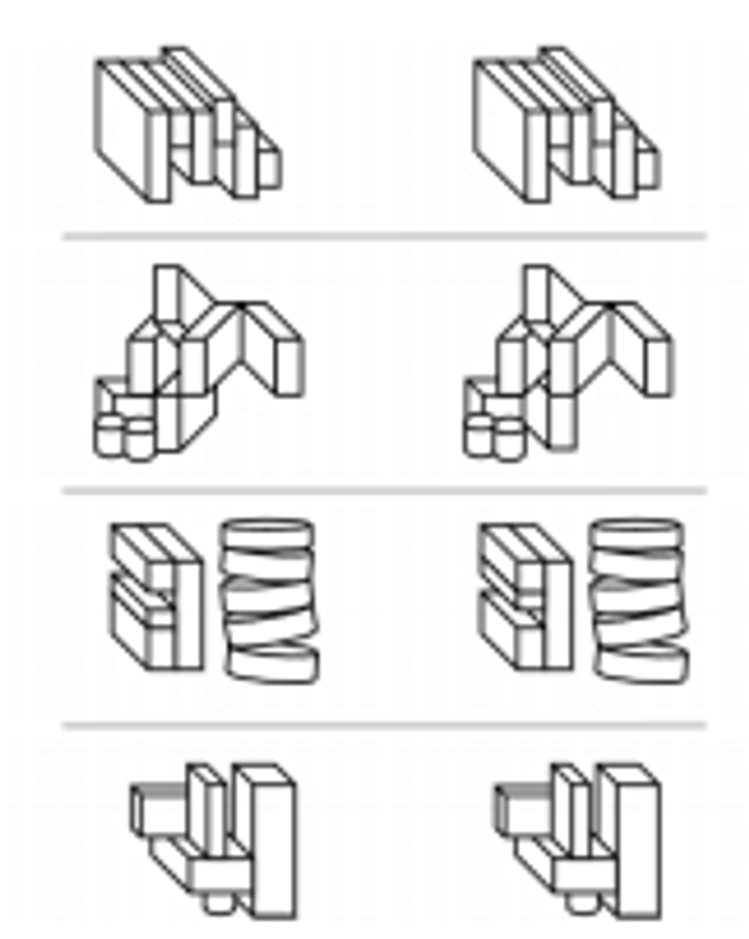 0
1
2
3
4
Answer

The correct answer is C: 2.
How Are the Test Results Presented?
The UCAT results are presented in a comprehensive profile report, including the number of correct answers, as well as the candidate's percentile ranking, based on all individuals who took the test. The report also contains scores for each ability, thus detailing the strengths and weaknesses of the candidates in four categories:
Logic and analysis
Numerical reasoning
Paying attention to details
Spatial reasoning
Finally, the profile report also includes a ranking of all positions, according to Criteria standards and categories. The candidate's raw score is then positioned correspondingly, indicating whether he or she has the required score for the position requested.
Which Professions Are Relevant for the UCAT?
Since the UCAT is the same as the CCAT except for the verbal questions, the same professions are relevant. The following list below details various jobs requiring the candidate to undertake either the CCAT or the UCAT:
| | |
| --- | --- |
| Sector | Tests |
| Accountants | UCAT, EPP |
| Analysts (financial) | UCAT, EPP |
| Analysts (market research) | UCAT, EPP |
| Counter clerk | UCAT, EPP |
| Executive Director | UCAT, EPP |
| Clerical (bookkeeping and accounting) | UCAT, CBST |
| Programmers | UCAT |
| Software engineers | UCAT, EPP |
| Director of Operations | UCAT, EPP |
| Graphic designer | UCAT |
| Human Resources Manager | UCAT, EPP |
| IT consultant | UCAT, CSAP |
| Credit Manager | UCAT, EPP |
| Managers | UCAT, EPP |
| Store Manager | UCAT, EPP |
| Marketing Manager | UCAT, EPP |
| Mechanical engineer | UCAT |
| Network Administrator | UCAT, MRAB |
| Office Manager | UCAT, EPP |
| Paralegal and Legal Assistant | UCAT, EPP |
| Personal Financial Advisors | UCAT, SalesAP |
| Recruitment Manager | UCAT, EPP |
| Physiotherapist | UCAT, CSAP |
| Purchasing Manager | UCAT, EPP |
| Sales Manager | UCAT, EPP |
| Commercial | UCAT, CBST, SalesAP |
| Sales Representatives (technology) | UCAT, EPP |
| Social Worker | UCAT, CSAP |
| Quality Engineer/Software Integration | UCAT |
| Technical Writer | UCAT |
| Controller | UCAT, EPP |